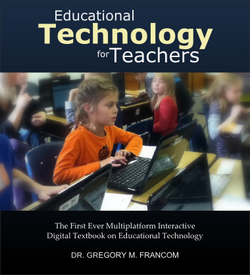 Reviews
"
I've used Dr. Francom's interactive digital textbook,
Educational Technology for Teachers
in my INST 4703 Educational Technology course for the past two semesters. I've received wonderful feedback from my students on how they liked the format of the text (interactive and digital) and how confident they are integrating technology into their future classrooms. I look forward to using this outstanding resource for many more semesters! I highly recommend other higher education instructors to do the same."

- Janice Newlin, M.Ed. - Auburn University at Montgomery
"
Educational Technology for Teachers
is a research-based, user-friendly, highly interactive student-centered resource for anyone wanting to learn more about educational technology. This book has it all…from built-in resources, to helpful tutorials, meaningful content, and practical activities. If you want to reach today's learners, this is a must-have tool for you!"
- Dr. Andria L. Moon - Northern State University
"Educational Technology for Teachers
is an outstanding introduction to educational technology. Dr. Francom's approach is practical, interactive, and research-based. I highly recommend this book for anyone wishing to incorporate technology effectively into the classroom."
- Dr. Joel L. Gardner - Franklin University
Adoptions
University of Southern Mississippi
Indiana University-Purdue University Columbus
Auburn University at Montgomery
Northern State University
South Dakota State University
University of Georgia
---